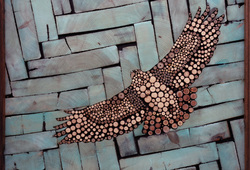 Eric grew up in Minneapolis, a big city surrounded by trees and wildlife, which led to a deep appreciation for the environment and animals. He studied graphic design and illustration.
Ketevan grew up in eastern Europe, had animals as her best friends and has been curious about science and outer space. Her background is in biochemistry and activism.

The urban forest of Chicago is alive with potential, all with a unique story to tell. Whether it is buildings from 1800s being rehabilitated, old pallets used for transporting goods, used tables or barns, all of this wood often ends up being thrown away. Reclaiming these materials allows us to reduce the environmental impact of throwing it in the landfill and reduces the need for cutting down more trees. Repurposing these materials adds another chapter to that history revealing the strength and beauty of the wood.

Start with something not typically characterful and expand upon it. An old pallet can become an animal; a bundle of sticks can turn into an abstract galaxy; old lumber becomes a vibrant, sturdy frame.

Wood is an amazing medium. With our art, we hope to ignite curiosity, imagination and love for wood, which not only has served us for millennia as fuel and construction material, but also has allowed us to have art and tools and this wood comes from trees, which are the lungs of the earth. We use buckthorn, which is invasive in the Midwest, oak, yew, maple, butternut, walnut, elm, sycamore, pine and anything we can get our hands on, sustainably.

Slicing and composing in a love of nature and science to create a moving stillness.


Custom Work

We love to do custom pieces; boxes, panels, even furniture, which is how Eric got his start with woodworking. Let's think and talk about the space, colors, shapes, ideas, preferences and of course, wood. We love experimenting and would love to make your perfect piece for you.


---